Work Package 3
Insoles
Improvement of insoles using thermal information.
Previous work of our group: Dedicated insoles have proved their efficiency in the reduction of DF ulcer occurrence. However varying efficiency from one patient to another suggests to exploringe individual strategiesy, as proposed in the DiaBSmart EU project which has just been completed with the participation of the clinical biomechanics team at Staffordshire University. A considerable experience and know how in the assessment and systematic design of insoles for diabetic patients has been developed [BHA-06][LIU-15]. Furthermore, we have developed a concept known as Viscoturf [NAE-15].
The Viscoturf insole emulates the function of a natural turf and provides cushioning as well as nerve stimulation and enhances blood circulation. This interaction with the foot is particularly advantageous because it improves perfusion or blood circulation in the tissue of the plantar tissue of the foot. This, together with appropriate cushioning / offloading can facilitate more efficient healing of the ulcers at the plantar aspect of the foot. Despite the established role of thermography assessment of plantar soft tissue in preventing ulceration [BHA-06], and the existence and emergence of systematic method of analyzing foot temperature [LIU-15], so far there has been no systematic approach to relieving the symptoms associated with diabetic foot hyperthermia using insoles.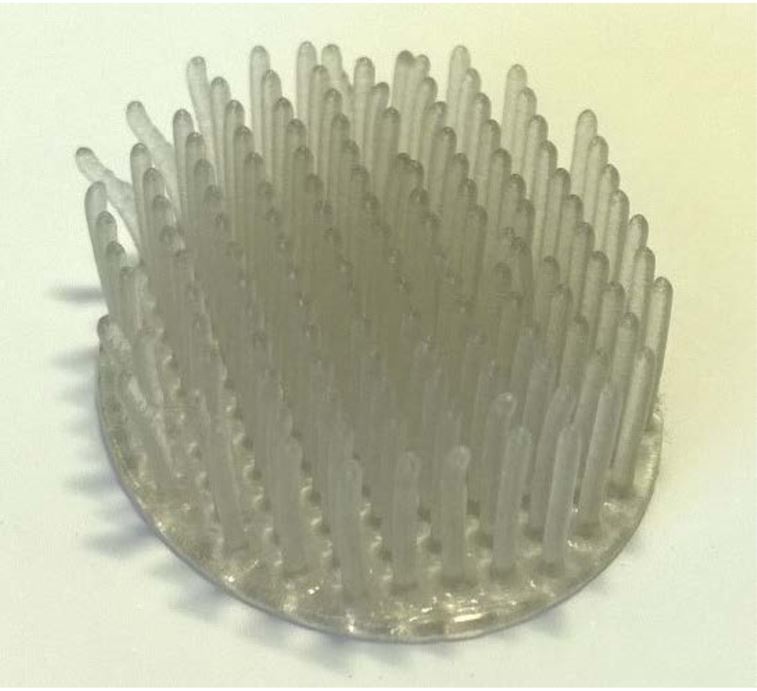 Sample of Viscoturf.
---
STANDUP project activities: Based on the Viscoturf concept that has been developed within the clinical biomechanics team at Staffordshire University, we will develop new bespoke insoles for a better thermoregulation, to improve blood circulation and reduce peak pressure. We will develop new insole based on these criteria using CAD technology as well as a new finite Element model and 3D printing.
Furthermore, the efficiencyacy of Viscoturf concept in improving the thermoregulation through improved blood perfusion (micro circulation) will be assessed using the Laser Speckle Contrast Analysis (LASCA) technique. Biomechanics Lab at Staffordshire University has access to this facility and has previously developed a number of protocols to assess the efficiencyacy of Viscoturf in improving perfusion and blood circulation. During this project, the efficiencyacy of Viscoturf in improving thermoregulation will also be assessed using the smartphone application (A1 developed in WP2) and the thermography protocol based on the data base that was previously established (GAT-15).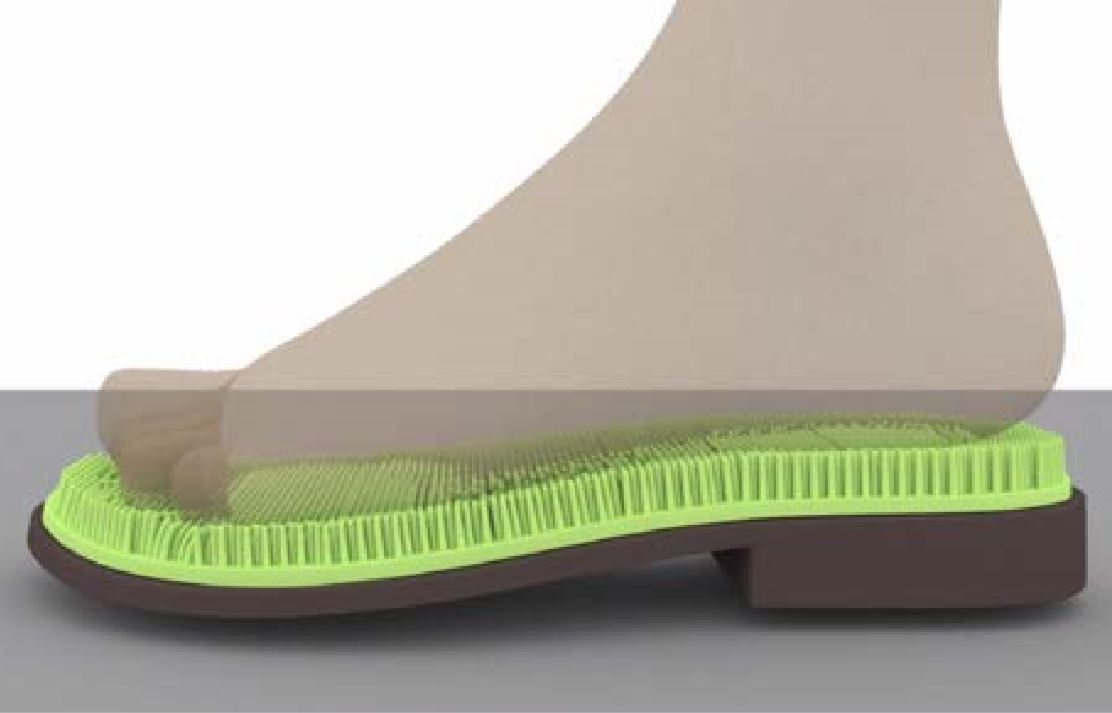 Viscoturf insole.
Furthermore it willould also be assessed to find if the improvement in thermoregulation is a result of an increase in blood perfusion, or whether other characteristics of Viscoturf (i.e. aeration, ventilation and air flow facilitated through turf like 3D printed structure) would have any effect on decreasing the skin temperature. This will be achieved by simultaneously monitoring the skin perfusion and temperature using the Laser Speckle Contrast Analysis (LASCA) and thermography technique before and after a controlled use of ViscoTurf insole. Using this information the team at Staffordshire University will develop specific structures of Viscoturf to improve both the aeration and microcirculation characteristics of the plantar soft tissue of the foot.
These new footbed will be tested at the Pontificia Universidad Javeriana (Footlab) on 5 DF patients. These 5 pairs of insoles will be produced at the Staffordshire University. The test will include various measures (advanced temperature analysis using A1, pressure in static and dynamic mode, Doppler ultrasound, and electromyography) thanks to the facilities available at Javeriana and on their experience in new methods of insole design for reducing peaks of plantar pressure, on thermal measurements, and their knowledge of proper materials for the manufacturing of appropriate foot care treatment.
These expertise will be complemented by the expertise available at Staffordshire University in assessment of the mechanical properties of the plantar soft tissue using ultrasound elastography technique (NAE-16, NAE-17). Thisese complementary expertise at the Clinical Biomechanics team ofat Staffordshire University and in the Footlab at Pontificia Universidad Javeriana, will ensure the full achievement of the objectives of this work package.
Back